Customer
The Ramaraju Surgical Cotton Mills, Ltd.

Location
Rajapalayam, Tamil Nadu
Product
Ramco Greencor - Non-asbestos Fibre Roofing Sheets
About the Customer
The Ramaraju Surgical Cotton Mills was founded in 1939 in Rajapalayam, Tamil Nadu, to take advantage of the availability of the cotton grown by local farmers. The company, along with Rajapalayam Mills Ltd. that was established in 1935, were instrumental in transforming the region from an agrarian to an industrial society.
The Ramaraju Surgical Cotton Mills is the largest producer of absorbent cotton, gauze, bandages and other wound-care products in Southern India with a production capacity over 125 tons of medical grade bleached cotton and over 1.5 million square meters of bandages and gauze products. Over the years they have diversified into spinning and weaving, producing some of the world's finest cotton yarn and manufacturing premium fabrics for shirting, bed linens and Jacquard cloth. The Ramaraju Surgical Cotton Mills is well known for quality products that meet customer expectations, which has helped them build a loyal base of satisfied customers spread across the globe.
Problem
The climate of Rajapalayam is semi-arid and the temperature range is 20 °C to 37 °C. It has a high mean temperature. The mill requires humid temperature controlled environment to process cotton yarns and fabrics. Moreover, washing, de-sizing, bleaching, rinsing, dyeing, printing, coating and finishing involves various chemical processes. Metal roof have little or no resistance to chemicals and processes employed in the mill. They start corroding rapidly exposing and risking the sophisticated machinery, processes, personnel and materials to the elements and structural failure.
greencor roofing over the plant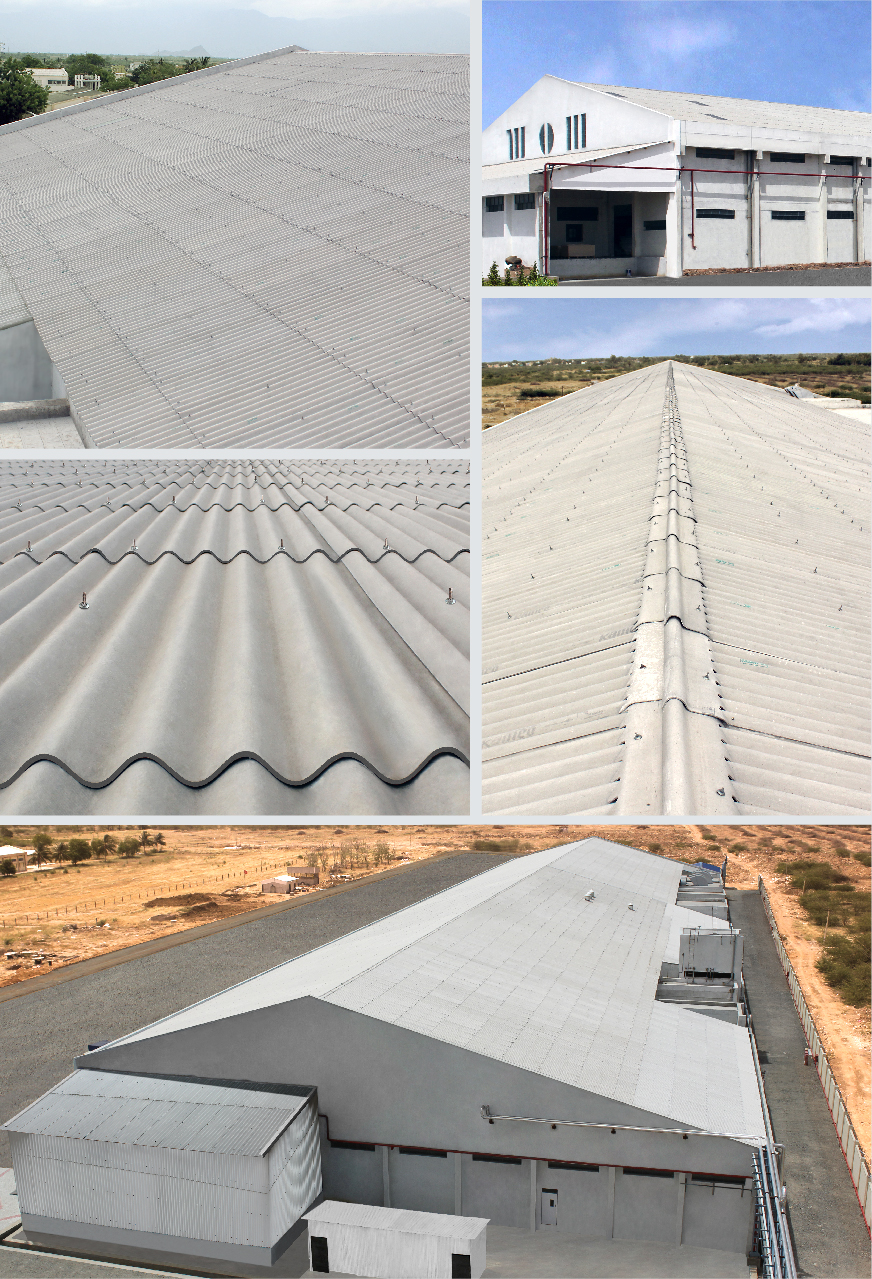 Requirement
The plant needed roofing sheets that will be durable, last long and provide a comfortable working condition for the employees.
Solution
Ramco Greencor – Non-asbestos Fibre Roofing Sheets
Made of high quality non-asbestos fibre & cement, Ramco Greencor is the new age roofing sheet. Unlike metal roofing sheets, it is not affected by pollution or marine environments. It stays strong and provides a perfect working condition for years.
| Sl.No | Properties | GI Metal Sheets | Greencor Sheet | Inference |
| --- | --- | --- | --- | --- |
| 1 | Material | Galvanised Iron | Cement, Fly Ash, Synthetic Fibre (Polyvinyl Alcohol Fibre) | Zero maintenance, Resistance to natural weathering / corrosion |
| 2 | Sound | High Noise Pollution | Zero Noise Pollution | Greencor ensures calm and quiet environment |
| 3 | Heat Difference (deg C) | Absorbs heat, hence warmer than the outer temperature | Keeps the interior 4-5 deg. C cooler in summer and warmer in winter | Greencor reduces the temperature from exteriors and maintains the internal temperature comfortable |
| 4 | Lightning and Power | Conducts & Affects | Does not conduct and affect | Greencor is unaffected by Lightning and Power hence ensures a safe environment for the inmates. |
| 5 | Thermal Conductivity (λ) (W/mK) | 20 | 0.113 | Greencor is unaffected by Lightning and Power hence ensures a safe environment for the inmates. |
| 6 | Load Bearing Strength N/m | Not Available | 3920 | Greencor Load Bearing Strength is good |
| 7 | Non- combustibility | Poor | Excellent | Greencor is Non-combustible / Fire resistance |
| 8 | Cost | Higher (20%) | Lower | Economical |
| 9 | Life | 8 Years | 40 Years | Greencor stays longer when compared to all metal sheets. |
| 10 | Chemical Resistance | Poor | Excellent | Excellent chemical resistance |
| 11 | Vapour Permeability | Poor | Good | Condensation is controlled because of its breathing property |
| 12 | Deform Stability | Satisfactory | Good | Aesthetics - Dimensional stability good |
" Ramco Greencor
protects our assets because it does not react with our production processes, So no worries or damages to roof and machinery!"
All trademarks and logos appearing on the site are the property of their respective owners.