Customer
CHENGALPATTU Railway Station

Product
Ramco Greencor - Non-asbestos Fibre Roofing Sheets
About the Customer
Indian Railways transports 8.1 billion people and 1.1 billion tons of goods annually and has 7216 stations across India. Indian Railways can be defined as the lifeline of India considering the important role it plays in day to day life.
Problem
Every railway station offers basic amenities for the passengers and ensures that these are safe and clean, thanks to the slew of initiatives taken by the Central Government.
Providing a proper roofing for the passengers across all platforms in every station is one of the prime requirements of the department. Few years ago, majority of railway stations across India switched on to metal roofing sheets replacing the old asbestos sheets. The metal sheets were chosen for its look and on the belief that they may last long.
On the contrary, India has tropical climate prevailing across the major parts of the country – hot summer, cold winters and a heavy monsoon downpour. Also, India is a developing country with a booming economy opening up large manufacturing plants resulting in a polluted environment. India is a peninsula with almost 60% of the states on the coastal belt exposed to marine conditions.
The tropical climate, pollution and marine environment is a potent mix to easily corrode and damage the metal roofing sheets.
Added to this the coastal part is prone to cyclonic storms with strong winds of upto 100 kms/hour. Metal sheets have a low wind velocity resistance with which it cannot resist strong winds and fly off. Apart from resulting in loss of material they may turn into flying swords which can harm the public badly.
Hudud cyclone which affected in 2014 in Vizag and Vardhah cyclone in 2016 at Chennai wreaked havoc and left every station roofless including the iconic Chennai Central Station.
The metal roofing sheets also has poor thermal insulation which resulted in a hot & sultry environment for the passengers resting under them.
Greencor non asbestos fibre roofing sheets replaced Existing Roof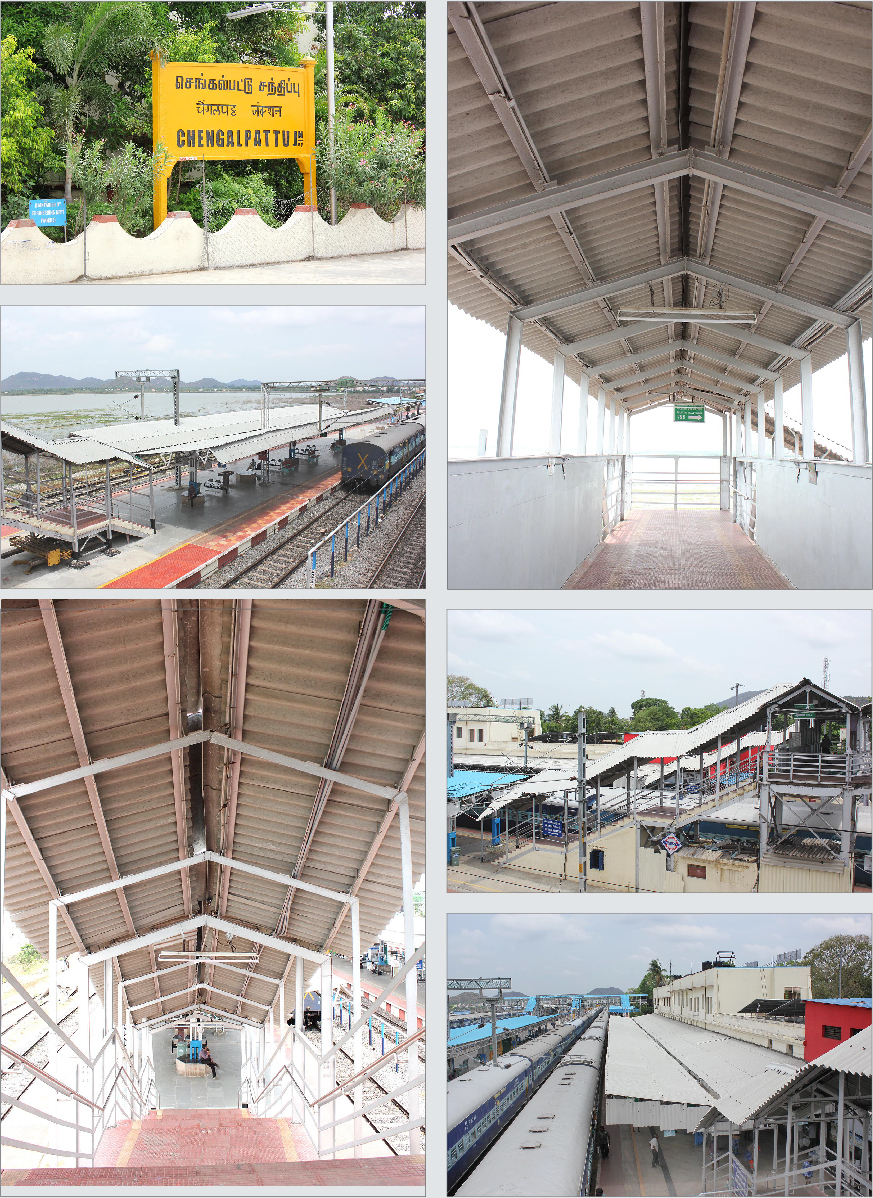 Requirement
The stations are in need of roofing sheets that will be safe, durable, last long and provide a comfortable resting condition for the passengers.
Solution
Ramco Greencor – Non-asbestos Fibre Roofing Sheets
Made of high quality non-asbestos fibre & cement, Ramco Greencor is the new age roofing sheet. Unlike metal roofing sheets, it is not affected by pollution or marine environments. Years together it stays strong and provides a perfect and safe condition to the inmates.
| Sl.No | Properties | GI Metal Sheets | Greencor Sheet | Inference |
| --- | --- | --- | --- | --- |
| 1 | Material | Galvanised Iron | Cement, Fly Ash, Synthetic Fibre (Polyvinyl Alcohol Fibre) | Zero maintenance, Resistance to natural weathering / corrosion |
| 2 | Sound | High Noise Pollution | Zero Noise Pollution | Greencor ensures calm and quiet environment |
| 3 | Heat Difference (deg C) | Absorbs heat, hence warmer than the outer temperature | Keeps the interior 4-5 deg. C cooler in summer and warmer in winter | Greencor reduces the temperature from exteriors and maintains the internal temperature comfortable |
| 4 | Lightning and Power | Conducts & Affects | Does not conduct and affect | Greencor is unaffected by Lightning and Power hence ensures a safe environment for the inmates. |
| 5 | Thermal Conductivity (λ) (W/mK) | 20 | 0.113 | Greencor is unaffected by Lightning and Power hence ensures a safe environment for the inmates. |
| 6 | Load Bearing Strength N/m | Not Available | 3920 | Greencor Load Bearing Strength is good |
| 7 | Non- combustibility | Poor | Excellent | Greencor is Non-combustible / Fire resistance |
| 8 | Cost | Higher (20%) | Lower | Economical |
| 9 | Life | 8 Years | 40 Years | Greencor stays longer when compared to all metal sheets. |
| 10 | Chemical Resistance | Poor | Excellent | Excellent chemical resistance |
| 11 | Vapour Permeability | Poor | Good | Condensation is controlled because of its breathing property |
| 12 | Deform Stability | Satisfactory | Good | Aesthetics - Dimensional stability good |
"
Passenger satsifaction is high after installation of
Ramco Greencor"
All trademarks and logos appearing on the site are the property of their respective owners.